Events and Tournaments
Surbiton Croquet Club is active throughout the year combining tournaments, coaching, internal competitions and social events. From the New Year's Day 'Frostbite' one-ball competition to the Christmas lunch there is plenty going on.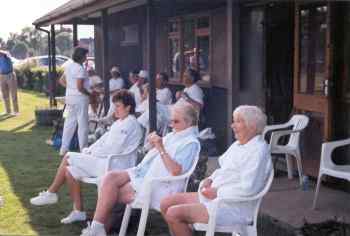 Spectators in front of the club house
During the summer (on those Mondays, Tuesdays, Wednesdays and Thursdays, when the club is not hosting a tournament) there are well-attended Club Days, where new members can get to know other players. During the winter there are Club Sundays with one-ball competitions, lunch and afternoon bridge each month.
Introductory Sessions & How to Play Croquet - Introductory Sessions are open to anyone wishing to learn more about croquet.

These introductory sessions are organised so that you can try the game with minimal expenditure!

Regular Roll-ups every week unless the diary shows an alternative fixture:

Monday: AC Mainly High Handicappers 10.30am, organiser Philip Hellen
Tuesday: GC Doubles 10.30am, organiser Maureen Asker
Wednesday: AC everyone 10am, organiser Graham Brightwell
Thursday: GC Singles 10am, organiser Max Holland

Coaching - information on forthcoming coaching courses.

Events Calendar - what's on when.

CA Listed Tournaments - Surbiton Tournaments listed in the CA Fixtures Calendar.

Tournament Vacancies - a display showing how full our tournaments are.

Internal Competitions - Club events. Most take place over the season.

Inter-Club Competitions - Inter-Club Competitions entered by the Club.

Afternoon Bridge - Friendly handicap duplicate bridge.

Corporate Events - Croquet for you and your guests at our Club. Please contact our Secretary above
To assist visitors to our Club there is our own GOOD FOOD Recommendations.
Surbiton Croquet Club
© Copyright 2005-21

NF 3/12/21
---
| | | |
| --- | --- | --- |
| Updated 3.xii.21 | surbitoncroquet.org.uk/surbiton/events/index.asp | |
---