Surbiton GC Championship 2019.
Don Beck writes: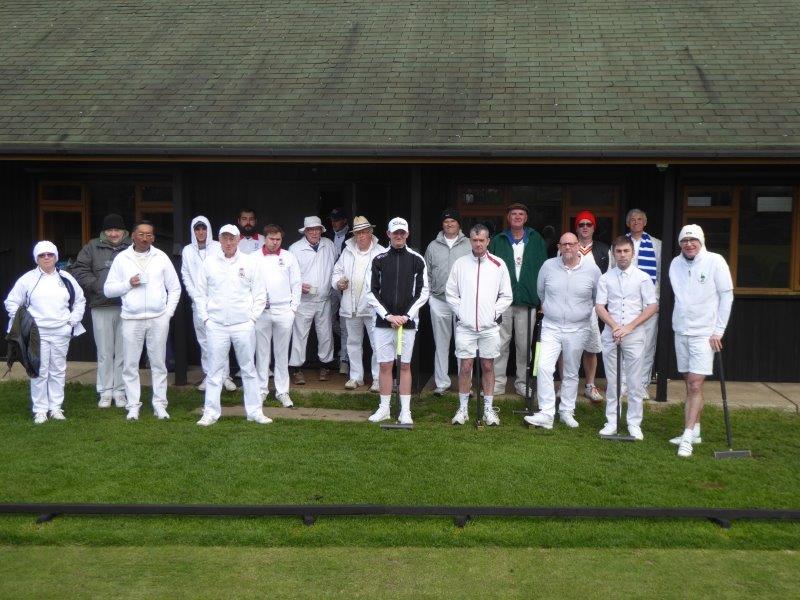 The Players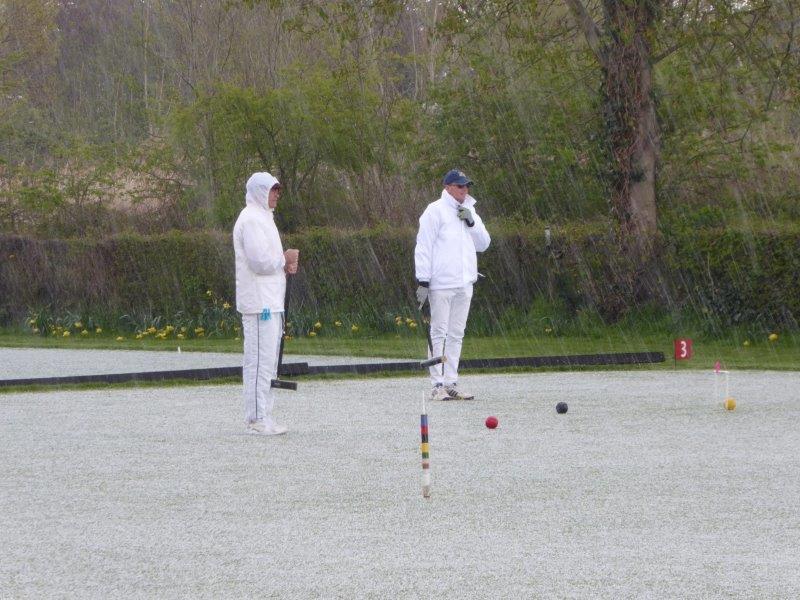 Hail!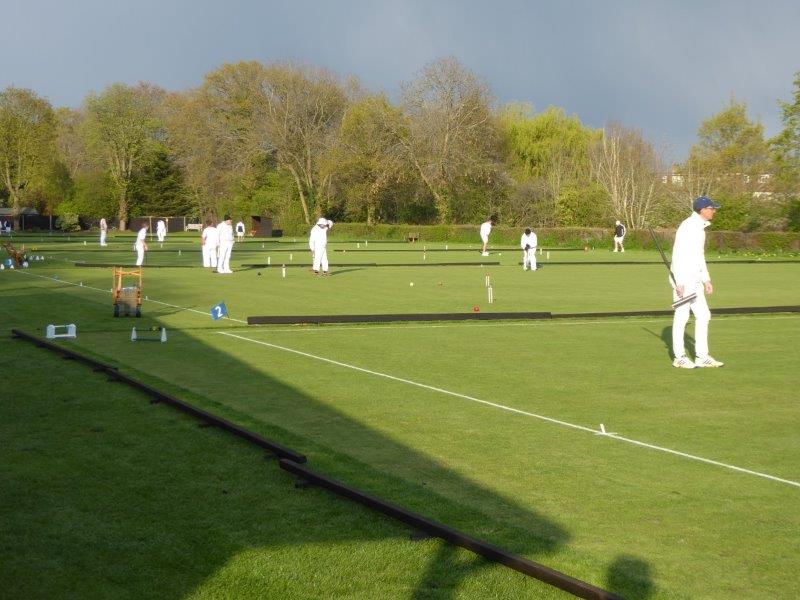 Better weather
SEVEN OF UK TOP EIGHT…….
Surbiton in April is always likely to provide an interesting competition and this year we see the strongest group of players for a weekend championship. (Seven of the top eight UK players is probably a record for a GC weekend Missing were two Surbiton members; Stephen Mulliner and South Africa's Reg Bamford))
April also brings unpredictable weather and we had a cold start with very light rain which stopped shortly after 9:30. This was followed by temps that dropped to the extent that Hail covered the courts and players retreated. Noticeably Richard Bilton played on in short sleeves protected by his waistcoat! It stayed cold until late afternoon when bright spells reminded us why we play this game so early in the year.
Just as the weather was proving to be unpredictable so were the results. James was delayed as his personal driver had trouble getting to Surbiton. The welcome he received from his opponent, Liz Farrow, was certainly warm as she comfortably won 7-5. Liz followed up in the next round by beating John-Paul Moberly 7-6. We expect to see Liz playing at Surbiton in April for the next few years, she is enjoying this tournament.
The rest of the day was a series of expected results with only the odd surprise and the top 4 seeds in each block all in a position to make the semis.
Rob Fulford 7/8
Ian Burridge 7/8
Jamie Burch 6/8
Harry Fisher 6/8
John-Paul Moberly 6/8
James Death 6/8
Richard Bilton 6/8
Tobi Savage 6/8
DAY TWO
Round nine and the top players were now battling for places in the semis. Ian beat Jamie 7-5 and Richard Bilton beat James Death 7-5.
Round ten
In Blue block Rob beat Ian 7-4 and in Red James Death beat John-Paul 7-5 including a nice clean jump from the boundary at three. J_P was heard to comment about the run of the balls, James was pleased with his win.
Round eleven: final block round
Blue Block: Rob having already qualified beat Jamie 7-6, coming from behind winning 12 and with a promotion of 12's ball winning 13. The critical match was between Ian and Harry, the winner Ian qualifying. Harry finished with eight wins and both Jamie and Raouf Allim had 7.
Red Block
Richard crucially eliminated John-Paul by 7-4. James's 7-4 win over Tobi was not enough. Tobi qualified.
Three players had eight wins:
Richard Bilton (net points 25)
Tobi (21)
James (14)
John-Paul and Charlie Von Schmieder had 7 wins.
SEMI-FINAL
Rob beat Ian and had to wait for the battle between Tobi and Richard to finish. Tobi winning the second game 7-3 was well ahead but Richard kept pegging him back and won the decider at hoop 13.
FINAL
Rob won a battle for the first game 7-6 then had an easier time in the second 7-2.
The lawns for April were superb and the only disappointment was the low temperatures. The standard of play for this time of the season was very good as you may expect with this quality of entrant.

Despite the temperatures we had spectators from far and wide. They were two deep on lawn two.

This is the link to the test stream we did this afternoon: https://youtu.be/wIYhZeV_LLY

&nbsp

&nbsp

&nbsp

&nbsp

&nbsp

Surbiton Croquet Club
© Copyright 2008-19

NF 16/04/19
---
| | | |
| --- | --- | --- |
| Updated 10.vi.19 | surbitoncroquet.org.uk/surbiton/news/news2019/1904apr/gcchamp19.asp | |
---