Golf Croquet Open Championship 18/19th April 2015 Weekend Report.
Don Beck writes: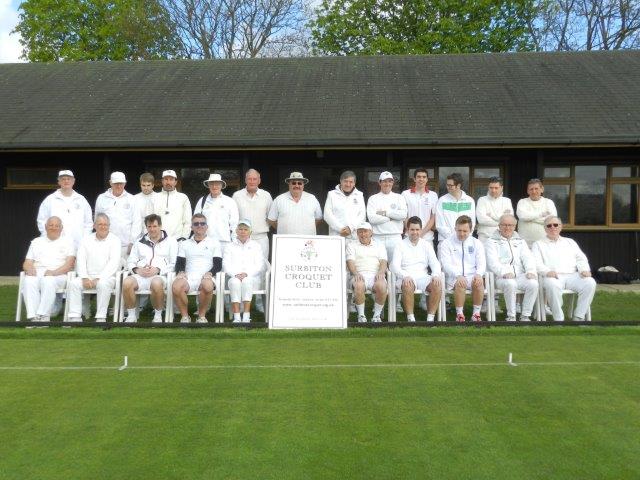 Contestants
Surbiton Golf Croquet Open Championship Weather perfect for running but cool for croquet.
Today saw the introduction of the trial - Sequence Umpire and it was decided that the players and others who are gc referees would act as SU's when able to do so. Within 30 minutes of the start of the Surbiton Gc Championship John Spiers became the Worlds First Sequence Umpire .
The first round saw the usual mix of predictable and surprise results, Ed Dymock who arrived slightly late (penalty - he's missing from the photo) beat Jeff Dawson. And Helena beat James Goodbun. Two people who you might have thought would make the semi's. james gave full credit to Helena " She just hit everything.."
Post Lunch
Play is slow. Hoops should be easy but are being made to look challenging.
This could be due to the bitter north east wind or could be early season. The pictures will show clear blue skies with minimal cloud. beautiful. ?But when the wind blows...............
Block A is looking like Stephen (playing well, better than in previous years at this time of year) and John Spiers. John looks very steady and is focussed. Stephen has just beaten John 7-4
In the B Block. Will Gee is 5/6 having lost 7-6 to Chris Roberts. Will jumped 12 leaving Chris having to play through the hoop to hit red. This he did with a great shot putting his ball 4feet in front of 13. He ran it to take the game.
James goodbun is also 5/6 after his early defeat to Helena
2nd Day
Yesterday was clearly Stephen's with 8/8.?Aided by Richard's brain- freeze at 13. Stephen's first ball was played to a good position , Richard considered his options then played Stephens other ball to 13. Needless to say Stephen's hoop.
Today weather cool prob 11C. 65% cloud cover but no wind , so much more pleasant than yesterday afternoon.
Play started . watching Stephen's first game. he runs 1 and almost runs 2 with the ball. Next shot over hit and he jaws 2. Goes on to win the game. ?looks like he will be playing John in the semi.
Despite the newfound fame from his debut as a Sequence Umpire John is playing well. Only loss was to Stephen.
This has also been the first top event where handicap cards have been collected (and in some cases created). Not sure the players see any benefit at this level.
one Semifinal is sorted with Stephen playing John In best of 3 (one up as block result counts for first game.) In the other block it is down to hoop 13 Will v Martin. Will wins and he plays James G in the semi. Will first ball deep, red 4yd posn. Black good running 5ft. Yellow almost blocks black. Blue sends red to south boundary South shoots , nr miss on black. black runs. Will plays James g.
Semis
John ran 9 from the boundardy to take 5-4 lead. Stephen takes 10 John from close to jaws takes 11 . much interplay Stephen in jaws doesn't take 12 then later does.
John misses 13 Stephen runs and into final winning sem 2-0.
Will and James G have more interesting semi which goes to 3rd. Will despite looking like he is losing 12 reportedly won 7-5 in the 3rd.
Conditions are now full cloud , no wind. yesterday we had about 20 visitors, today probably nearer 25 through the day.
Stephen started the weekend looking like he was in form. After his excellent performance in the Worlds (Feb), he looks like he is in the groove , could be a good season for him. Will looks like he is searching for his form, and as the competition has progressed he has pieced more of game together. A couple of tournaments and a bit of practise/coaching and he could be firing.
The final started and the first game went to 13. After a couple of misses Stephen takes the first.?This match is seeing a few in-offs and even a double in-off. ball hits two balls en-route to running the hoop. Stephen peels Will through 12 for a 7-5 .
In the third Stephen was steady but Will's clearances more effective. The game may have been won by Stephens all-round game holding together better,Will's first ball approach could have been better and he looked the more in need of competition.
It should be said that this year has seen the strongest entry of any year. And the quality of play has been very high for so early in the season.
Result Stephen 7-6, 5-7, 7-5 Will.
Thanks to
All the Surbiton Cooks, Grounds., hoop setters etc etc The tournament Ref Martin (and for setting hoops for semi and final) Chris Tournament HandicapperHoward - Plate manager
Congrats to Martin Plate winner - 2/2
Handicap changes
John Spiers 0 to -1?
Mark Ormerod1 to 0
Duncan Reeve – new handicap +1
&nbsp
&nbsp
&nbsp
Surbiton Croquet Club
© Copyright 2008-15

NF 27/04/15
---
| | | |
| --- | --- | --- |
| Updated 27.iv.15 | surbitoncroquet.org.uk/surbiton/news/1504apr/gcopen15.asp | |
---